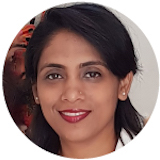 Manjula Annappa
Chair, Publications Committe
After many months of fear, anxiety and uncertainty, I for one am grateful that there seems to be more of an optimistic outlook as we cautiously emerge from lockdown. One blessing this situation has brought us all is time. Time to slow down, time for introspection and reflection, time to connect with family and friends – perhaps even time to grieve for those who have lost loved ones to the pandemic.
It has been amazing to see how adaptable and formidable the human spirit is. I have been truly touched by everyone's ability to face challenges, band together and lend a helping hand, often way out of their comfort zones.
In my personal experience we have had to start virtual clinics as returning to surgical activity occurs at slow and varied rates. Despite the usual teething problems, I have been pleasantly surprised by the support, understanding, and concern our patients have for us. I have also observed our patients seem more compliant with their bladder retraining and pelvic floor exercises. As a result, we have noticed significant improvement in symptoms. Perhaps all this time at home has encouraged us all to focus on and take a little more responsibility for our health.
In this issue of the IUGA Spotlight we are privileged to have access to Drs. Yoshimira, Takeyama, and Lo's expert opinions on mesh surgery in the second and final installment in our series, Where Is Mesh Still Used to Treat POP? The first part highlighted the importance of patient selection and counseling as the key to successful mesh surgery. We also bring you an interesting article on biofeedback in the assessment of urinary incontinence. We are familiar with biofeedback in colorectal symptoms, but its use in urinary incontinence is not much explored and this is something we will all learn from Dr. Maura Seleme. This issue promises to be an interesting and educational read and we hope you enjoy reading it as much as we enjoyed putting it together for you.
In closing, I must say I am in awe of the IUGA staff for all the work they have done in quickly and creatively transforming the planned in-person meeting into our very first IUGA Virtual Annual Meeting, August 29 – September 4, 2020! I am very much looking forward to (virtually) meeting up with you all and I hope we all come motivated to learn and catch up with the whole IUGA family.
As some of us start the recovery phase from the COVID-19 pandemic, the rest of us are now in the middle of the surge. We all stand together in this family and I hope you all stay safe!