FIUGA's activities this year focus on raising funds to cover surgical care – including time away from home and work to ensure a full recovery – for women suffering from prolapse in Eastern Nepal. Many of the women treated at B.P. Koirala Institute of Health Sciences in Dharan travel great distances from rural areas – sometimes by foot, for days – to receive treatment through the FIUGA-supported urogynecology program. USD$285 will cover surgery and recovery for one woman.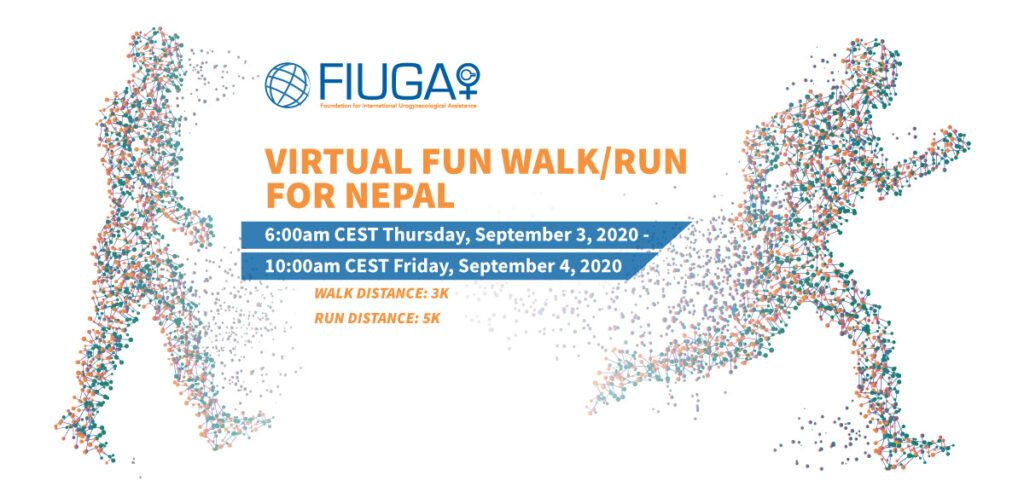 2020 Fun Walk/Run
Just like the 2020 Annual Meeting, the 2020 FIUGA Fun Walk/Run is also going VIRTUAL! Join us September 3-4 for a virtual 3k walk or 5k run. You can even opt for a shorter or longer distance if you wish! We have tools to help you map out your course and will be sharing your submitted run/walk selfies on social media so we can see one another as if we were all together!
As a non-profit organization, FIUGA (IUGA's Foundation – www.fiuga.org) relies solely on donations to operate our International Assistance Program in Dharan. With a little help from a lot of participants, we can make a big impact! We hope you will be part of this movement by not only participating in this year's FIUGA Fun Walk/Run for Nepal, but by becoming a FIUGA Fundraiser. In only takes about 5 minutes to create a personalized donation page. Once created, you can share your donation page with your friends, family, colleagues – even grateful patients who want to make sure other women can get the treatment they need – and ask them to support your participation in the FIUGA Fun Walk/Run with a small donation. Sign up for the Virtual Fun Walk/Run and we'll send you instructions!
2020 Silent Auction
Even if you cannot image traveling today, once the world opens up again post-pandemic, you might find yourself very ready for a vacation. Or maybe you'll be ready for a preceptorship to jump-start a particular career interest. Or maybe you just want to treat yourself! Be sure to check out the 2020 Online Silent Auction. From vacation homes and preceptorships to one-of-a-kind jewelry, you can purchase with a purpose, knowing that you are helping a woman in Nepal receive the pelvic floor treatment or surgery she so desperately needs.