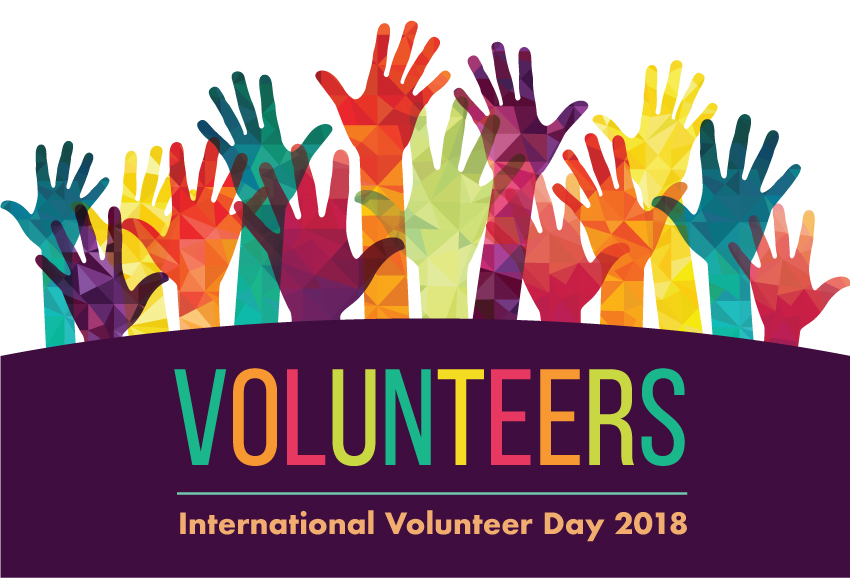 It takes many hands to keep an association like IUGA moving forward and best in the field. On December 5, International Volunteer Day, we recognized and thanked all of the volunteers - over 1,100!! - who contributed to the success of IUGA in 2018. All contributions make a difference - from serving on a committee to presenting at the Annual Meeting, from peer reviewing for the IUJ to translating a patient education leaflet, the work of our volunteers adds up to a great association for all. To our volunteers goes our heart-felt thanks!
If you see a name missing from this list, please notify us at This email address is being protected from spambots. You need JavaScript enabled to view it. so they too can be recognized!
List of Volunteers 2018
Alphabetized by Last Name.
Ahmed Abbas
Jason Abbott
Mohamed Abdel-Fattah
Abdelmageed Abdelrahman
Syad Abdirahman
Carmita Abdo
Zeelha Abdool
Hirokazu Abe
Ahmed Abulfotooh Eid
Marian Acevedo Alvarez
A. Lenore Ackerman
Rony Adam
Amos Adelowo
Arnold Advincula
Vivian Aguilar
Oscar Aguirre
Ariel Aharoni
Hamdy Ahmed
Thomas Aigmueller
Sayeba Akhter
Salwan Al Salihi
May Alarab
Maria G. Alarcon
Gabriela Alarcón
Alexandriah Alas
Ira Dominique Alatraca-Malonzo
Ahmed Al-Badr
Michael Albo
Stefan Albrich
Nashwa Aldardeir
Sofia Alegra
Ummu Hani Alhaddar
Ghada Al-Kafaji
Ahlam Mahmoud Al-Kharabsheh
Bruce Allan
Lucie Allègre
Hazem Al-Mandeel
Marianna Alperin
Julio Alvarez
Horacio Alvarez Garzon
Aline Alves
Almira J. Amin-Ong
Cindy Amundsen
Jean Jacques Amy
Mallika Anand
Michael Anapolski
Maria Andrada Hamer
Felipe Andreoli
Vasanth Andrews
Johannes Angleitner-Fotzinger
Sònia Anglès Acedo
Breffini Anglim
Manjula Annappa
Danielle Antosh
Yoshitaka Aoki
Nikolaos Apostolopoulos
Camila Araujo
Louise Arenholt
Katherine Armstrong
Harpreet Arora
Angamuthu Arunkalaivanan
Lily Arya
Victoria Asfour
Ina Asklund
Tolga Atakul
Ixora Atan
Stavros Athanasiou
Anastasios Athanasopoulos
Ayhan Atigan
Mathilde Aublanc
Corina Avni
Andrea Avondstondt
Karabalut Aysun
Azami Denas Azinar

Fiona Bach
Panayoti Bachkangi
Samuel Badalian
Georges Bader
Jungbum Bae
Jan Baekelandt
Kaven Baessler
Madhu Bagaria
Elham Baghestan
Evangelia Bakali
Sivakumar Balarishnan
Sunil Balgobin
Andrea Kristina Baliton-Veliganio
Matteo Balzarro
Andrew Baranowski
Mathew Barber
Heather Barbier
Matthew Barker
Lauren Barnes
Dimitri Barski
Lucy Bates
Tamara Bavendam
Tony Bazi
Alice Beardmore-Gray
Fanny Bechard
Alexander Berger
Bary Berghmans
Arnold Bernards
Ricardo Pimenta Bertolla
Kelli Berzuk
Cornelia Betschart
Leonardo Bezerra
Alka Bhide
Kazila Bhutia
Ana Maria Bianchi-Ferraro
Julia Bihler
Mette Bing
Elisa Birnbaum
Catharina Bisseling
Johannes Bitzer
Urska Bizjak-Ogrinc
Vesna Bjelic-Radisic
Mija Blaganje
Zuramis Blanco
B. Blok
Bernardita Blümel
Kari Bø
Katarzyna Bochenska
Barbara Bodner-Adler
Jo Booth
Maria Bortolini
Simone Botelho Pereira
Carolyn Botros
Sylvia Botros-Brey
Alain Bourcier
Sarah Boyd
Sarah Boyles
Megan Bradley
Andrea Braga
Hema Brazell
Erin Brennand
C. Bretschneider
Luiz Gustavo Oliveira Brito
Kerstin Brocker
Gill Brook
Linda Brubaker
Clément Bruhat
Carol Bugge
Suvit Bunyavejchevin
Sarah Burgess
Igor But
Katelyn Butcher
Charles Butrick
Nuriye Büyükkayacı Duman

Delena-Mae Caagbay
Mary Rani Cadiz
Jacqueline Cahill
Ruth Cameron-Jeffs
Patrick Campbell
Linda Cardozo
Marcus Carey
Kevin Carlson
Silvia Carramao
Dan Carter
Rufus Cartwright
Drew Cassidenti
Edgardo Castillo
Henry Castro
Laura Cattani
Jessica Caudwell Hall
Mauro Cervigni
Elif Nazli Cetindag Aydin
Toby Chai
Symphorosa Chan
Young Seop Chang
Varisara Chantarasorn
Chloé Chattot
Leilani Chavez-Coloma
Chi Chiung (Grace) Chen
Zhuoran Chen
Gin-Den Chen
Huey-Yi Chen
Jinyang Chen
Bertha Chen
Luyun Chen
Gautier Chene
Wenjin Cheng
Mei Chi Cheng
Willy Cecilia Cheon
Ralph Chesson
Rachel Cheung
Henry Chill
Orawee Chinthakanan
SiHyun Cho
Bo-Hwa Choi
Christopher Chong
Myung-Soo Choo
Eric Chieh-Lung Chou
Corina Christmann-Schmid
Han How Chuan
Chris Chung
Sara Cichowski
Melissa Cifuentes
İlkim Çıtak Karakaya
Amanda Clark
Samantha Codé
Joseph Cofrancesco
Seth A. Cohen
Linda Collins
Kathleen Connell
Florin Constantin
Melissa Constantine
Chris Constantinou
Jeffrey Cornella
Ariana Cornet
Eduardo Cortes
Marlene Corton
Michel Cosson
Elisabetta Costantini
Alexandra Cottam
Jocelyn Craig
Hendrik Cronje
Patrick Culligan
Kristina Cvach

Ana Sofia Da Silva
Yuxin Dai
Patrick Dällenbach
Francesca Dalprà
J. Oliver Daly
G. Willy Davila
Cathy Davis
Elise De
Albert De Decker
Jacqueline De Jong
Laurent de Landsheere
Jan Willem de Leeuw
Renaud de Tayrac
Gunter de Win
John DeLancey
Ömer Demir
Jan Deprest
Hemikaa Devakumar
Bruno Deval
Giovanni Di Favero
Carlos Diaz
Laura Didomizio
Alexis Dieter
Hans Peter Dietz
G.Alessandro Digesu
Shuqing Ding
Suskhan Djusad
Roger Dmochowski
Nasuh Dogan
Keziban Dogan
Ozan Doğan
Mattia Dominoni
Daniela Dörfler
Stergios Doumouchtsis
Harold Drutz
Joanna D'Souza
Jean-Bernard Dubuisson
Jonathan Duckett
Ulla Due
Omar Dueñas-Garcia
Chantal Dumoulin
Gena Dunivan
Constantin Durnea
Lucy Dwyer
Peter Dwyer
Keisha Dyer
Nicola Dykes
Volha Dzivakova

William Easton
Autumn Edenfield
Masayuki Egawa
Corinne Egger
Vladimir Egorov
Vered Eisenberg
Chanil Ekanayake
Hazem El Ashmawi
Hassan Mohamed Elbiss
Hosam Elhalwagy
Dina El-Hamamsy
Eman Elkadry
Dominique El-Khawand
David Ellington
Abubaker Elmardi
Marlene Elmelund
Sherif El-Nashar
Sohier Elneil
Ahmed El-Zawahry
Marian Engberts
Emily English
Elisabeth Erekson
Jannie Eriksen
Erwinantp Erwinanto
Montserrat Espuña
Maria Estanol
Zuramis Estrada Blanco
Giuseppe Ettore
Janelle Evans
R.M.E. Evers

Muhammad Fadli
Samarah Faik
Pamela Fairchild
Balint Farkas
Rania Farouk
Scott Farrell
Juliane Farthmann
Brigitte Fatton
Amir Fauzi
Abdalla Fayyad
Benjamin Feiner
Andrew Feola
Cristine Ferreira
Elizabeth Ferreira
Philippe Ferry
Elyonara Figueiredo
Enrico Finazzi-Agrò
Paul Fine
Thomas Fink
Fátima Fitz
Richard Flint
Camilo Fonseca
Thais Fontes de Magalhaes
Abigail Ford
Alexandre Fornari
Raymond Foster
Igor Frank
Helena Frawley
Bob Freeman
Talia Friedman Barhum
Xavier Fritel
Helga Fritsch
Andrea Frudinger
Lothar Fuith
Akiko Fujisaki
Deana Funaro
Christian Fünfgeld
Michelle Fynes

Boris Gabriel
Iwona Gabriel
Rabea Gadelkareem
Marianne Gamper
Jeya Ganesh
Mihnea Gangal
Maria Jose Garate
Bobby Garcia
Jorge Garcia
Caroline Gargett
Adrian Gaspar
Anne Gauthier
John Gebhart
Alan Paul Gehrich
Ingrid Geiss
Elizabeth Geller
Júlio Geminiani
Rene Genadry
Laura Gephart
Joanna Ghigo
Gamal Ghoniem
William Gibson
Moshe Gillor
Shimon Ginath
Stefánia Gitta
Karin Glavind
Barbara Goedl-Purrer
Hemanth Goel
Judith Goh
Ayse Filiz Gokmen-Karasu
Karen Gold
Howard Goldman
Irwin Goldstein
Sue Goldstein
Leonardo Gómez
Sheryl Gonocruz
Elizabeth Goodall
Christian Göpel
Felicity Gould
Hannah Graetz
Wolfgang Graninger
Søren Gräs
Mikel Gray
Elfriede Greimel
Cara Grimes
Tamara Grisales
Anique Grob
Klara Grohregin
Maria Gracia Grutadauria
Magdalena Grzybowska
Tao GuangShi
Marsha Guess
Zeliha Guler Gokce
Aylin Günes
Funda Gungor Ugurlucan
Chris Gunnell
Priyanka Gupta
Robert Gutman
Rodrigo Guzman

Marwan Habiba
Jorge Haddad
Suzanne Hagen
Michael Halaska
Heidi Halbedl
Gabriela Halder
Berna Haliloglu
Jennifer Hallock
Ksenia Halpern
Nazli Hameed
Obed Hammond
Thomas Hamp
Youxiang Jonathan Han
Ji Yeon Han
Johanna Hannan
Margrethe Foss Hansen
Engelbert Hanzal
Ingrid Harm-Ernandes
Patrick Harrington
Marie-Andree Harvey
Sarah Hassan
Tokumasa Hayashi
Bernard Haylen
Lynsey Hayward
Katrine Hebert
Aparna Hegde
Mark Hehir
Natasja Hendriks
Pattaya Hengrasmee
Etienne Henn
Helai Hesham
Rachel High
Simon Hill
Anne-Marie Hill
Tim Hillard
Deslyn Hobson
Erik Hokenstad
Lukas Horcicka
Renato Hosoume
Sheng-Mou Hsiao
Chun Shuo Hsu
Yan Hu
Chun-Che Huang
Ben-Shian Huang
Chien Chu Huang
Chun-Chung Huang
Wen-Chu Huang
Kuan-Hui Huang
Ting-Wen Huang
Petr Hubka
Markus Hubner
Catherine Hudson
Markus Huebner
Hansjörg Huemer
R. Keith Huffaker
Kathie Hullfish
Huan-Cheng Hung
Kuanhui Hung
Eric Hurtdao
Karen Ruben Husby
Martin Huser
Hussein Hussein
Heinrich Husslein
Agnes Husslein
Juana Hutchinson-Colas
Gail Hyland
Lucie Hympanova

Rami Ibrahim
Salih Ibrahim
Cheryl Iglesia
Cynthia Ileana Infante Meléndez
Sharif Ismail
Shilpa Iyer
Matthew Izett

Lonese Jacobs
Raquel Jacomo
Bernard Jacquetin
Wolfram Jaeger
Mohammad Jaffal
Amita Jain
Karl Jallad
Mark James
Stephen Jeffery
John Jelovsek
Peter Jeppson
Swati Jha
Yuanyuan Jia
Hege Hølmo Johannessen
Christy Jones
Vanessa Jordan
Jorge Haddad
Jennifer José
Marcin Jozwik
Cássia Juliato
Carrie Jung
Baerbel Junginger

Pratima Kadam
Lisa-Ann Kaestner
Vladimir Kalis
Nigar Kamilova
Svabik Kamilova
Dorothy Kammerer-Doak
Leslie Kammire
Gregg Kanter
Naheed Kapadia
Francisco Kaplan
Aysun Karabulut
Emmanuel Karantanis
Debjyoti Karmakar
Deborah Karp
Arnoud Kastelein
Kumiko Kato
Emina Kayama
Rohna Kearney
Michael Keighley
Susan Kellogg-Spadt
Cosima Kemmether
Kimberly Kenton
Manon Kerkhof
Victoria Kershaw
Anni Baha Khan
Rajvinder Khasriya
Rose Khavari
Yasmine Khayyami
Vikram Khullar
Azar Khunda
Aethele Khunda
Mark Kibschull
Myung Ki Kim
Hyeon Woo Kim
Duk Yoon Kim
Sun-Ouck Kim
Sejin Kim
Soo Rim Kim
Shunaha Kim-Fine
Jennifer King
Manami Kinjo
Satoru Kira
Anna Kirby
Niels Klarskov
Bernd Klosterhalfen
Kirsten Kluivers
Tomoko Kobayashi
Marianne Koch
Ervin Kocjancic
Irene Koenig
Heinz Kölbl
Yuko Komesu
Gleb Kovalev
Claudia Kowalik
Joseph Kowalski
Masayasu Koyama
Bence Kozma
Bozo Kralj
Tessa Krantz
Michal Krcmar
Isha Kriplani
Shyam Krishnan
Ladislav Krofta
Jennifer Kruger
Pieter Kruger
Nikita Kubin
Annette Kuhn
Sigurd Kulseng-Hanssen
Tina Kunič
John Kusek
Soo Kwon

H. Henry Lai
Katariina Laine
Karin Lammers
Rainer Lange
Maryse Larouche
Michael Due Larsen
Rosa Laterza
Pallavi Latthe
German Laurito
Vincent le Touzy
Douglas Leach
Michaela Lechner
Edgar LeClaire
U-Young Lee
Joe Lee
Seong Ho Lee
Yi-Ling Lee
Dong Hwan Lee
Jeong Zoo Lee
Taek Sang Lee
Monika Leitner
Nucelio Lemos
Gil Levy
Cindi Lewis
Huan Li
Yi-Ling Li
Rui Liang
Ching-Chung Liang
Limin Liao
Pei Shan Lim
Wongsakorn Limbutara
Harvard Lin
Yi-Hao Lin
Hsin-Yin Lin
Kuan-Yin Lin
Brian Linder
Fiona Lindo
Sarka Lisonkova
Juan Liu
Tsia-Shu Lo
Mark Lockhart
Jemina Loganathan
Cheng-Yu Long
Zixi Loo
Gunnar Lose
Christine Louis-Sylvestre
Danny Lovatsis
Jerry Lowder
Svjetlana Lozo
Ye Lu
Vincent Lucente
Adelia Lucio
Sebastian Ludwig
Christopher Chong Yew Luen
Helena Luginbuehl
Emily Lukacz
Jiajia Luo
Polina Lyatoshinskaya

Caroline Maake
Sarah Machin
Mário Maciel de Lima Junior
Lindsay MacMurray
Chendrimada Madhu
Sangeeta Tina Mahajan
Ayman Mahdy
Chris Maher
Peter Maher
Sachin Malde
Veronica Mallett
Ira Dominique Malonzo
Mamta Mamik
Ruben Mamprin D'Andrea
Nkosinathi Manana
Jane Manning
Jittima Manonai
Margarita Manresa
Karim Mansy
Claudia Manzini
Tom Marcelissen
Nasma Marcus
Alayne Markland
Emily Marko
Alois Martan
Frank Martens
Claudia Martinez Espinoza
Natalia Martinho
Jaromir Masata
Teresa Mascaren
Chie Matsushita
Catherine Matthews
Fleming Mattox
Donna Mazloomdoost
Ross McBride
Doreen McClurg
Shanteela McCooty
Margaret McDougald
Timothy Mckinney
Linda McLean
Mary McLennan
Marta Medina
Hayser Medina Lucena
M. Meena
Joan Melendez Munoz
Katharina Meller
Jerome Melon
Shawn Menefee
Zelalem Mengistu Gashaw
Bryon Merade
Kate Meriwether
Michele Meschia
Bert Messelink
Alfa Meutia
Isuzu Meyer
Yali Miao
John Miklos
Themistoklis Mikos
Fred Milani
Ian Milsom
Vatche Minassian
Pawel Miotla
Victor Miranda
Ana Paula Gonçalves Miranda-Gazzola
Vineet Mishra
Douglas Miyazaki
Lori Mize
Pamela Moalli
Arufiadi Anityo Mochtar
Fernandi Moegni
Michael Moen
Taraneh Mohajeri
Stefan Mohr
Raheela Mohsin
Jan Mokriš
Lars Alling Møller
Sophie Moloney-Geany
Marilene Vale Castro Monteiro
Hong Sang Moon
Robert Moore
Maria Helena Moraes Lopes
Paul Moran
Luz Maria Moratalla Charcos
Marina Gabriela Mori da cunha
Melanie Morin
Siv Morkved
Rafael Moroni
Michelle Morrill
Abraham Morse
Helene Moser
Alex Mowat
Dakalo Muavha
Markus Mueller
Maggie Mueller
Alana Murphy
Miles Murphy
Lestari Mustikarini
Deborah Myers

Koichi Nagao
Charles Nager
Madhu Naidu
Sarita Narang
Cristina Naranjo-Ortiz
Renato Natal Jorge
Franca Natale
Gert Naumann
Enie Akhtar BT Nawawi
Hedwig Neels
Leonardo Nelva Stellio
Martin Nemec
Zoltan Nemeth
Timothy Ness
Wendy Ness
Aude Nessi
Menahem Neuman
Roy Ng
Kai Lyn Ng
Beng Kwang Ng
Keng Jin Ng
Yeh Giin Ngo
Rachel Nicholson
Gemma Nightingale
Cara Ninivaggio
Victor Nitti
Ke Niu
Joon Hwa Noh
Ciara Nolan
Jimmy Nomura
Nabila Noor
Gina Northington
Kim Notten
Aleksandra Novakov-Mikic
Zalina Nusee
Christiana Nygaard
Ingrid Nygaard
Maria Nyhus

Aneta Obloza
Amy O'Boyle
John Occhino
Ifeoma Offiah
Homare Okazoe
Emerson Oliveira
Dulce Oliveira
Oseka Onuma
Daniella Oom
Barry O'Reilly
Francisco Orejuela
Adnan Orhan
Carmen Ortiz Roque
Blake Osmundsen
Donald Ostergard
Orfhlaith E. O'Sullivan
Mifuka Ouchi
Lin Li Ow

Anna Padoa
Manidip Pal
Hun-Shan Pan
Apurva Pancholy
Ivilina Pandeva
Lopa Pandya
Juergen Pannek
Andrew Panyin
Nirmala Papalkar
Janna Pape
Marie Paraiso
Jack Pardo
Mitesh Parekh
Dawn Parris
Radhika Patnam
Alejandro Pattillo Garnham
Guichard Pauline
Christopher Payne
Ursula Peschers
Thais Peterson
Eckhard Petri
Andrey Petrikovets
John Petrizzo
Peter Petros
Paul Pettit
Tatiana Pfiffer Favero
Thythy Pham
Christina Phillips
Paola Pifarotti
Joseph Pincus
Fernanda Pipitone Rodrigues
Eleni Pitsouni
Javier Pizarro-Berdichevsky
Mauricio Plata
Ashish Pradhan
Helen Preston
Oliver Preyer
Natalia Price
Stewart Pringle
Lisa Prodigalidad
Magdalena Ptak
Dewi Astri Purnaningtyas
Bhawana Purwar
Bussaranya Puttanapitak

Ayman Qatawneh
Amina Qutub

Suneetha Rachaneni
Kenny Raha
Salma Rahimi
Mohammad Sajjad Rahnama'i
Natarajan Rajamaheswari
Smita Rajshekhar
Katharina Rall
George Ralph
Carmel Ramage
Kalaivani Ramalingam
Rajeev Ramanah
Angie Rantell
Charles Rardin
Tomasz Rechberger
Mohan Regmi
Barbara Reichetzer
Fiona Reid
Christl Reisenauer
Cassio Riccetto
Holly Richter
Beri Ridgeway
Paul Riss
Diaa Rizk
Raheela Rizvi
Magali Robert
Dudley Robinson
Jose Robles
Tamara Roehling
Rebecca Rogers
Victoria Romikh
Carlos Rondini
Jan Paul Roovers
Cristina Ros
Anna Rosamilia
Peter Rosenblatt
Peter Rosier
Ghazaleh Rostami Nia
Purim Ruanphoo
Alejandra Ruiz-Zapata
Zdenek Rusavy
Michael Rutkowski
Rita Rynkevic
Gloria Ryu

Jose Antonio Saavedra Arcas
Jordi Sabadell
Pushpa Sachdev
Fadi-Tamas Salameh
Sabina Salicrú
Stefano Salvatore
Anne Sammarco
Agustin Sampietro
Peter Sand
Carola Sandor
Thanawat Sangnucktham
Bussara Sangsawang
Tatiana Sanses
Grannum Sant
Giulio Santoro
Thais Santos
Budi Iman Santoso
Lucky Saraswat
Juan Sardi
Marair Sartori
Lieba Savitt
Yugo Sawada
Ariel Scafuri
Jeffrey Schachar
Gabriel Schaer
Joseph Schaffer
David Scheiner
Lore Schierlitz
Gisele Schön
Steven Schraffordt Koops
Christoph Schregel
Louise Schreiber Pedersen
Jane Schulz
Nadine Schwertner-Tiepelmann
Jason Scovell
Krishnan Seethalakshmi
Maura Seleme
Maurizio Serati
Tamara Serdinšek
Mohamed Shahin
David Shaker
Ekaterina Shapovalova
Georgy Sharvadze
Jonathan Shaw
Janet Shaw
Ka Lai Shek
Clara Shek
Nataliia Shelkovnikova Shelkovnikova
Jonathan Shepherd
Nicole Shilkofski
Dong GIl Shin
Ju Hyun Shin
Jung-Ho Shin
Dmitry Shkarupa
S. Abbas Shobeiri
Iris Shoham
Bob Shull
Oksana Shynlova
Nazema Siddiqui
Shafia Shakoor Siddiqui
Lauren N. Siff
Joseane Silva
Elisabete Silva
Dan Simkins
James Simon
Andrew Simons
Priyanka Singh
Ruchi Singh
Sanjay Sinha
Dimos Sioutis
Carina Siracusa
Larry Sirls
Judith M. Sison
Kumar Siva
Ahmet Akin Sivaslioglu
Mark Slack
Jiri Slama
Ambereen Sleemi
Alka Sobti
Sonja Soeder
Michael Soerensen
Marco Soligo
Hee Seo Son
Olanrewaju Sorinola
Tracy Spitznagle
Marja Sprock
Sushma Srikrishna
Signe Nilssen Stafne
Edward Stanford
Julie Starr
Mirjam Stauffer
Mona Stedenfeldt
Matt Stefanelli
Adam Steinberg
Christine Stelzhammer
Jocelyn Stern
Ellie Stewart
Sophie Stezaker
Ryan Stratford
Emily Stratta
Kris Strohbehn
Liliana Stüpp
Charles Tsung-Hsien Su
Anurada Subramaniem
Abdul Sultan
Xiu-Li Sun
Vivian Sung
Grzegorz Surkont
Suzette Sutherland
Kamil Švabík
Sheela Swamy
Carolyn Swenson
Steven Swift
Olga Szabová

Visha Tailor
Annika Taithongchai
Satoru Takahashi
Yui Takahashi
Tomoko Takahashi
Masami Takeyama
Jose Tadeu Tamanini
A. Tamil Selvi
Ayman Tammaa
Karl Tamussino
Gaik Imm Tan
Ying Hao Tan
Cheng Tan
Omer Tapisiz
Sema Tas
Teerayut Temtanakitpaisan
Amornrat Temtanakitpaisan
Christopher Tenggardjaja
Roderick Teo
Ranee Thakar
Karishma Thariani
Tonya N. Thomas
Sigrid Tibaek
Brannwel Tibi
Douglas Tincello
Marc Toglia
Mio Togo
Hikaru Tomoe
Philip Toozs-Hobson
Jure Tornic
Safwat Tosson
Emanuel Trabuco
Ruben Trochez
Gerda Trutnovsky
Ling Hong Tseng
Ian Tucker
Romy Tudor
Paul Tulikangas
Ralf Tunn
Friyan Turel
Svetlana Tyurina

Enrique Ubertazi
Lucia Ucsnik
Elisabeth Udier
Aiste Ugianskiene
Funda Gungor Ugurlucan
Daniela Ulrich
Wolfgang Umek
Cecile Unger
Vinu Unnikrishnan
Darius Unwala
Iva Urbankova

Padma V.K
Natalie Vaccari
Babak Vakili
Ricardo Valderrama Gomez
Vaneesha Vallabh-Patel
Jeroen van Bavel
Kim van Delft
Tine van den Bos
Frieda van den Noort
Wouter van der Sluis
C. Hubb van der Vaart
Hans van Geelen
Ingrid van Zon-Rabelink
Thierry Vancaillie
Sandip Vasavada
José Vasconcelos Neto
Alla Vash-Marghita
Ian Vasicka
Joggem Veen
Nikolaus Veit-Rubin
Agustina Vendramini
Kim Verheijen - van de Waarsenburg
Carolien Vermeulen
Harry Vervest
Volker Viereck
Mark Vierhout
Sebastian Viguera
Rocio Villegas
Anthony Visco
Zdenko Vizintin
Marcia Voigt
Ingrid Volloyhaug
Desiree Vrijens

Bassem Wadie
Arian Wagg
Ehab Wahbah
Clifford Wai
Carolina Walker
L. Wall
Stacey Wallach
Jens-Erik Walter
Mark Walters
Lori Walton
Caroline Wanderley Souto Ferreira
Alex Wang
Jianliu Wang
Yiqin Wang
Shiyan Wang
Renee Ward
Erika Wasenda
Anne Weber
Emily Weber LeBrun
Alison Weidner
Adi Weintraub
Eskinder Weldetensaye
Heidi Wendell Brown
Stian Wesnes
Thomas Wheeler
Maeve Whelan
Amanda White
Kristene Whitmore
Pawel Wieczorek
Don Wilson
Shalini Wiseman
Kyle Wohlrab
Vivian Wong
Vivien Wong
Dan Wood
Ruth Ann Word
Jeremy Wright
Andrzej Wrobel
Maria Wu
Jennifer Wu
Qingkai Wu
Ming-Ping Wu
You (Maria) Wu
Wen-Yih Wu
Max Wunderlich
Jean-Jacques Wyndaele

No persons to show.

Yuriko Yamanishi
Jenn-Ming Yang
Xin Yang
Cenk Yasa
Murat Yassa
Ozgur Yeniel
Fan Yi
Eun-Hee Yoo
Hana Yoon
Yasukuni Yoshimura
Kaz Yoshimura
Chye Wah Yu
Denise Yuaso

Martino Maria Zacche
Zawani Zakaria
Anastasiya Zaytseva
Salomon Zebede
Aldene Zeno
Depeng Zhao
Lan Zhu
Ariel Zilberlicht
Philippe Zimmern
Loo Zixi
Dani Zoorob
Sandra Zwolsman