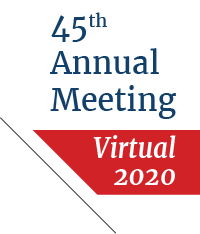 August 29 - September 4, 2020
Preparing for Your Virtual IUGA Meeting Experience
You normally come to us for the Annual Meeting, but this year we are coming to you! With no travel or hotel required, this year you can attend the Annual Meeting from the comfort of your own home or office. The Virtual Annual Meeting is more than just a webinar, with options to customize your own program, attend interactive Workshops and Meet the Experts sessions, and even attend the virtual exhibit hall. Real-time networking opportunities are also possible! And, remember all the times you wanted to attend 2 concurrent sessions but could choose only one? Sessions will be recorded, and all meeting delegates will have on-demand access, so now you don't have to choose between two sessions but can attend them all! Use the tips in this article to prepare yourself and your surroundings to get the most out of your 2020 IUGA Virtual 45th Annual Meeting experience!
Review the Program in Advance
In-person meetings offer jam-packed days of programming – but that's what you are there for! To prevent you from having to spend 8+ hours a day in front of your computer screen, we've scheduled this year's virtual meeting over a full week with 2 hours of main programming per day. Take a look at the program ahead of time and plan out your daily schedule.
Determine Session Times in Your Time Zone and Block Your Schedule
To help you get into a good rhythm for the Virtual Annual Meeting week and keep a consistent schedule each day, we've scheduled the main programming during the same 2-hour time block each day, from 1:00-3:00pm CEST. Use the link below to check what time this translates to in your geographic location, then block out that time on your calendar each day from August 29 – September 4 to ensure you don't miss any sessions. Note that Workshops, Meet the Experts, and Abstract Sessions take place outside the 1:00-3:00pm CEST time frame, so be sure to carefully review the program and block additional time out as necessary for the sessions you want to attend.
*All main sessions will also be recorded and available on-demand for all registered delegates.
Prepare Your Space
Unlike a physical, in-person meeting, we cannot influence the physical environment from which you will join us. Here are some things to consider prior to joining the virtual meeting:
Do you have an appropriate and comfortable space from which to join the virtual meeting? Comfortable seating? Adequate lighting? Do you have a quiet space where you can easily hear and focus on the presentations? If you plan to use headphones or earbuds, are they comfortable for the duration you need?
What can you do to minimize distractions and disruptions during the daily virtual sessions? Do family members or colleagues need to be informed ahead of time you are unavailable during certain times each day as if you were out of the office attending an in-person conference? Do you need a "Please Do Not Disturb" sign on your door? (Click

here

to download one!) If you are joining from a home environment with children, do you need caregivers arranged and/or activities planned ahead of time to engage children while you attend the meeting each day?
Do you have a good internet connection?
Are you a note-taker? Make sure you have the tools you need at the ready for note taking (paper, pen, tablet, etc.).
Do the sessions take place over your mealtime or do you need snacks/beverages? Have your meal, snacks or beverages ready prior to the session start time so you don't have to miss part of a presentation.
Technical Readiness
Registered delegates will receive the necessary link to join and instructions on meeting features prior to the start of the virtual meeting.
Plan to join the first session you are attending 5-10 minutes early to familiarize yourself with the virtual environment.
Join all sessions a few minutes early so you don't miss any introductions, announcements, or content!
Avoid Multitasking
In today's busy world we are used to multi-tasking. Treat your daily attendance at virtual meeting sessions as if you were there in person and give them your full attention. Close out other programs and screens on your computer, resist checking email during sessions, and turn off (or at least silence) your phone(s).