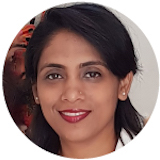 Manjula Annappa
Chair, Publications Committe
Dear Friends and Colleagues,
The Publications Committee has been hard at work to bring you the newly rebranded IUGA newsletter – The IUGA Spotlight. Moving forward, the bi-monthly newsletter will be delivered via an email that allows you to quickly scan the content and link to the full article on the IUGA website. This new delivery method will make it easy for you to access the content you are most interested in without having to scroll through a PDF document to find it. It will also provide us with better information about which articles garner the most interest and help us continue to tailor the content to our members' interests and needs. We hope to increase dialogue by including more expert opinions and we will continue to include difficult cases and topics for debate which have always been popular. We hope you enjoy this new format and welcome your feedback! Please share your comments with us via email to This email address is being protected from spambots. You need JavaScript enabled to view it..
I'm pleased to share my first Letter from the Editor with you all as the new Chair of the Publications Committee. After spending 3 years as a member of the Publications Committee, I was recently elected to chair the committee. I see this as a great opportunity to continue contributing to the newsletter bringing poignant and interesting topics to the forefront of our focus.
I started working in the field of urogynecology in 2010. In this time, I have witnessed several changes in the use of mesh in pelvic floor and incontinence procedures - from caution, to the pause and more recently, a return to traditional surgical methods like colposuspension and fascial slings. Our newsletter has kept us updated through all this, broaching different issues from patient outcomes and experiences, to service delivery and innovative research.
I'd like to take this opportunity to welcome Ganesh Dangal (Nepal) and Subhash Biswas (India), our new committee members, who will keep us updated on issues, interesting discoveries, practices and innovation from South Asia. I also welcome Yu Hwee Tan, our representative from the Fellows, Trainees and Early Career Professionals Committee.
I am excited to bring you some interesting articles in this issue including one on PROTECT from Mr. Abdul Sultan and Ms. Ranee Thakar, pioneers of perineal trauma repair. We also have an informative update on FIUGA and developments in the subspecialty of urogynecology in Nepal.
I especially look forward to meeting you all, our IUGA family, this September at the 45th Annual Meeting in The Hague. I am confident it will be another successful meeting!
I hope you like this new newsletter format! As we stand together to deal with the current Covid crisis, let us look after each other. Stay safe and be well!