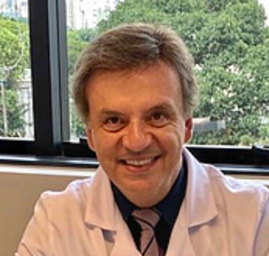 Jorge Milhem Haddad
Brazil
Jorge Milhem Haddad is the Chair of the Urogynecology Section of Hospital das Clinicas da Universidade de São Paulo, Brazil, as well as the Past President of the Brazilian Urogynecology Society. He joined the IUGA Board at the beginning of 2019 as Vice President and assumed the role of IUGA President on January 1, 2021.
How long have you been an IUGA member?
Haddad: I have been an IUGA member for about 20 years.
What was your path to a board position within IUGA?
Haddad: I started my participation in IUGA as an attendee and as a speaker for oral poster and podium presentations at the Annual Meetings (I've been in the vast majority of them for 20 years!). I participated on the Local Organizing Committee for the IUGA Regional Meeting in São Paulo in 2011. In 2015 I was elected to the IUGA International Advisory Board as the representative from Latin American and I had the opportunity to organize the 2015 IUGA Regional Symposium in Argentina (chaired by Enrique Ubertazzi) and the 2015 IUGA eXchange Program in Peru (chaired by Rosa Reategui). I also helped organize the 2017 IUGA Regional Meeting in Nicaragua (chaired by Efrain Toruno). I was elected in 2019 as IUGA Vice President and now have the honor of serving as IUGA President.
What is your role on the IUGA Board?
Haddad: I am the current President of IUGA. It is an honor to represent the best international urogynecology society in the world! I coordinate the Board Meetings and the Board is involved with the general decision-making process and overall management of IUGA.
What motivates you to be a volunteer leader for IUGA?
Haddad: I would like to contribute to continuing and enhancing our standing as the premier international society in urogynecology, spreading out IUGA's concepts all over the world.
What do you wish all members knew about IUGA or that you could say to all members?
Haddad: The members need to know that IUGA is the most important international society in the field of urogynecology, with approximately 3,000 members from different regions, representation from more than 90 countries, and more than 35 affiliate societies. IUGA is a true international society. And, it is a fantastic opportunity to build relationships with opinion leaders in the field of urogynecology and develop your professional skills, including research, and observership opportunities.
What's the most exotic place you have traveled?
Haddad: Kruger National Park in South Africa. It is an incredible place.
What's your favorite food?
Haddad: Actually, I like several kinds of foods, especially Arabian and Italian ones.
What's the last book you read?
Haddad: Meditation by Alexander Santi. It is an amazing book about the history of how meditation began in Western Countries.
What are your hobbies?
Haddad: My favorite hobby is to play tennis, but I love to run as well. There is a very nice place in São Paulo (Ibirapuera Park) where I usually run with my wife.