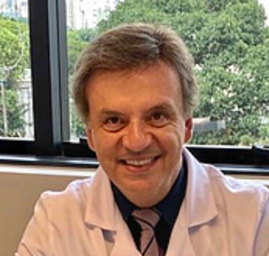 Jorge Milhem Haddad
IUGA President
Dear Colleagues and Friends,
First of all, I hope you and your families are well and safe. Similar to my first President's letter, I am writing this letter as well in what continues to be one of the most difficult periods of our lifetimes. I would like again to express my sympathy and compassion to all those who have suffered from this crazy pandemic.
Despite the hard days the world is going through, our work never stops! I am happy to announce that we have just approved a new IUGA Fellowship Committee, chaired by Sylvia Botros, which will focus on fellowship-level education and standards, as well as a new Robotics Special Interest Group, chaired by Steven Schraffordt.
As our immediate Past President, Ranee Thakar, wrote in her last President's letter, our patients need to be at the center of everything we do. I am delighted to announce that under Ranee's guidance, we have developed the IUGA Patient Advisory Council to provide a formal mechanism for hearing, and incorporating, the patient perspective into the work of IUGA. The Council's first meeting took place last month. This group will provide the patient's perspective to directly inform IUGA activities, with the goal of improving patient care through policy and program change.
I previously shared that I plan to focus on maintaining and enhancing our standing as the premier international urogynecology society. To do this, we need to continue to focus our work and initiatives on both the international and the multidisciplinary nature of our society and the practice of urogynecology, as well as utilizing and supporting our International Advisory Board.
To establish wider and deeper connections, we are developing a Regional Advisory Board (RAB) within each of our large regions (Africa, Asia, Europe, and Latin America). Each RAB will be chaired by the IAB member from that region. The RABs will include the presidents of the national urogynecology societies or the urogynecology sections of the Ob Gyn societies in each region. The RAB in Latin America has already been established and met recently with representatives from nine different countries that have a national urogynecology society or urogynecology section in the ObGyn society. All of the societies represented are IUGA Affiliate Societies, including the newly affiliated Paraguayan society.
Our next focus is establishing the RAB in Africa. We had an initial meeting with representatives from five African countries in April. This group is now working to prepare a webinar series which I am sure will improve urogynecology in Africa, not only through education but also through collaboration.
To ensure the multidisciplinary nature of IUGA is represented on the Regional Advisory Boards, each board will also include a nurse, midwife, and/or allied health professional representative. This will allow us to better understand the needs of these members in each region, as well as increase their numbers within IUGA and our Nurse and Midwife and Pelvic Floor Rehabilitation Special Interest Groups. I firmly believe we can help these Special Interest Groups, which have been very active within IUGA. In March we held our 2nd International Symposium for Allied Health Professionals which was a great success with more than 500 registrants.
Another of my goals for my term as President is to establish opportunities for member dialogue in the two most spoken languages (besides English). Initiatives focused on this goal will provide even more opportunities to learn, to grow professionally, and to share knowledge. We identified Spanish as our first language of focus and have begun to translate a number of IUGA documents into Spanish. In addition, one of our four recent Interactive Networking Sessions was offered entirely in Spanish.
Last, but not least, we will support and guide the development of a hybrid format for our future meetings. The Annual Meeting is being prepared with leadership from Dudley Robinson, Jan Deprest and the Scientific Committee, and Roy Ng and Local Organizing Committee. I am absolutely sure that it will be a great success.
I would like to recognize and thank Ranee Thakar, Dudley Robinson, Fred Milani, and Lisa T. Prodigalidad. The IUGA Board is a great family, and they are so important to maintaining IUGA as the best international urogynecology society. I would also like to thank the chairs and members of all of the IUGA committees and Special Interest Groups who are doing a great job, as well as Steven Swift and Becky Rogers, Co-Editors-in-Chief, and the Editorial Board of the IUJ for their excellent work on the best journal in urogynecology.
Our greatest thanks should also go to David Casalod, Tessa Benitez, and their fantastic team in the IUGA Office for their hard work. Their recommendations have been, and continue to be, critical to helping us during these crazy times.
Dear friends, I hope we can work together to achieve our goals. I am looking forward to seeing many of you in December at our Annual Meeting.
Thank you so much for your support. Please feel free to contact me with your questions or to share your ideas. Together we are stronger, so let's ensure IUGA remains the best international urogynecology organization.
Warm Regards,
Jorge